2005 Edition Gallery
The following pictures were taken during Codex Alpe Adria 2005.
Click the images to view a 640x480 picture. The original higher resolution images, where available, can be loaded by appending "_hires" to the file name (e.g. "example.jpg" vs. "example_hires.jpg").
Please refer to the image file name prefixes for photo credits:
Alberto Artico (aa)
Alessandro Passoni (ap)
Andreas Bornmann (ab)
Claudio Marro Filosa (cmf)
Enrico Vidale (ev)
Jens Schönfeld (js)
Luca Danelon (ld)
Max Raber (mr)
Niels Bache (nb)
Sami Ylönen (sy)
Simone Di Giorgio (sdg)
Stefan Leitner (sl)
Friday at Ciccio's










As always, Ciccio was enjoyable and good






All your base are belong to us?
Final Preparations


Jens setting up the
Altair emulator

A small breakfast
to kickstart the day
Presentations





Dario and Max with the latest
AmigaOS and AmigaOne news


Andrea and Mauro show the latest
MorphOS and Pegasos developments






Introducing Amiga Forever 2005
Demos Galore







Demos running all day
on multiple platforms




Skan is checking for
last-minute submissions
Retro Times



Various (small) Cray
parts on display, but...


... only because the hard disk
(and the rest) did not fit
through the door ;-)


The original Altair
launch issue...



The hardware that started a
revolution, and the movie that
inspired its name


Olivetti's attempt to
add style to an industry...








More hardware from Commodore...
Exhibit and People


The event rooms were busy
from morning to evening


A sneak peek at the new
Amiga Forever 2005



Sweet temptations













It wouldn't be Friulian
hospitality without...






At the end of the day lots of
pictures were taken by enthusiasts...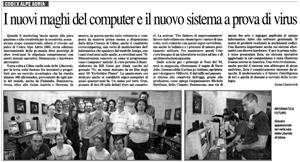 ... and professionals alike
Saturday Evening




This year's dinner is at
Trattoria alla Ghiacciaia




... could it be because of the food?
Sunday's Sightseeing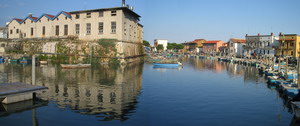 0xAAers visit the fishing village
of Marano Lagunare (south of Udine)



The day begins with a quick
lunch in Lignano, on the
other side of the lagoon





Lots of signs, on
and off the road..


... as distractions abound







Beach life can be tempting...




... but there's still a lot
too see in Marano




Il campanile is impressive, but...



... just across the port
and into the trees...





... it looks like on
a different planet







Welcome to the natural reserve









The region indeed offers
a lot of diversity...
Sightseeing in Udine


Udine by day...



... and a refreshing watermelon
(280 K is just perfect, says our
host, a local celebrity)
See You Next Year!