2003 Edition Gallery
The following pictures were taken during Codex Alpe Adria 2003.
Click the images to view a 640x480 picture. The original high resolution images can be loaded by appending "_hires" to the file name (e.g. "example.jpg" vs. "example_hires.jpg"). Five presentation images and one sightseeing photo are also accompanied by links to MP3 audio files.
Please refer to the image file name prefixes for photo credits:
Andreas Bornmann (ab)
Claudio Marro Filosa (cmf)
Daniel Beorchia (db)
Jens Schönfeld (js)
Luca Danelon (ld)
Maurizio Antoniazzi (ma)
Conference


Jürgen Schober presents AmigaOS 4.0
(English MP3 audio)


Jens Schönfeld presents the C-One, the Catweasel
and a network card for the C64
(English MP3 audio)


Andrea Bernardi and Mattia Tristo present BeOS
(Italian MP3 audio)


Jürgen Schober refuels before presenting the AmigaOne
(English MP3 audio)


Jürgen Schober kindly repeated his AmigaOS 4.0
presentation for the afternoon public
(English MP3 audio)
Exhibit and People



Mik and Luca during the opening minutes




An A4000 with PPC and AmigaOS 4.0



Andrea and Mattia demoing BeOS




MorphOS running on Pegasos PowerPC hardware


Before the Amiga: Commodore's SX-64,
one of the world's first portable computers


A C65 being tested before the show
(Jens had to use the screwdriver)...


... to make sure that everything went smoothly


Commodore's VIC 20, the precursor
to the incredibly successful C64






A CBM 3008 and CBM 4016 networked
together for a multi-player game


Back to the future: a computer without fans




Mick Tinker and Steve Rencontre's Access
(Amiga-on-a-board)




Some of the computers on display upstairs
(a NeXT Cube, a Sinclair ZX 80 and an Olivetti M20)




... packed the rooms from morning to late afternoon


By the way, what are you doing here,
all the way from Australia?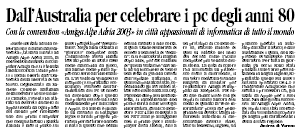 Behind the Scenes


Paul and Wojtka preparing the badges...


... and Massimiliano aligning the event CDs
The Night Before





Friday evening was Ciccio Night



... taking pictures of each other


Before closing a bit later than usual...


... Ciccio gave us another bottle of Limoncello
Saturday Evening


Stop talking about computers, please...





... the show went well, so just enjoy the evening
Sunday's Sightseeing



This must be what they call "Amiga Anywhere"





Pictures from Piazza Libertà and the castle






Walking around Udine we met some pedestrians
singing about Udine's castle and youth...
(Friulian MP3 audio)



Cividale was nice, but at the end of the day
we are all a bit tired...

Sunday Evening


... before Ross has to leave...


... and Claudio says goodbye too.
Thank You All!