2004 Edition Gallery
The following pictures were taken during Codex Alpe Adria 2004.
Click the images to view a 640x480 picture. The original higher resolution images, where available, can be loaded by appending "_hires" to the file name (e.g. "example.jpg" vs. "example_hires.jpg").
Please refer to the image file name prefixes for photo credits:
Andrea di Varmo (adv)
Claudio Marro Filosa (cmf)
Enrico Vidale (ev)
Lino Polo (lp)
Luca Danelon (ld)
Simone Di Giorgio (sdg)
Stefan Leitner (sl)
The Night Before





Dario testing the 802.11g wireless
bridge on GNU/Linux and AmigaOS




Absinth (late) evening in Udine
The Morning After
Conference


Mik's welcome speech
(Italian, English MP3 audio)






Dario presenting AmigaOS 4.0
(Italian MP3 audio)






Christian presenting Zeta
(Italian MP3 audio to follow)




Max, Uroš and Stefan describing the respective
local demo scene and Amiga communities
(Italian, Slovenian, German MP3 audio)


Mauro and Andrea presenting MorphOS
(Italian MP3 audio to follow)





Ben and Andrea covering the
latest AmigaOS 4.0 news
(English, Italian MP3 audio)


Libero presenting Linspire
(Italian MP3 audio to follow)
Exhibit and People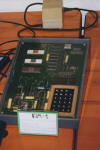 Commodore KIM-1



Commodore CHESSmate and
Commodore Game 3000


Commodore CBM 3008 and CBM 4016
(networked together)


Commodore MMF 9000
with 8050 dual floppy drive



Commodore Plus 4 and
vendor-provided carrying bag


... next to Access board
stacked on top of
Commodore SX-64 "Executive"


And of course, lots of
Classic Amiga systems
Saturday Evening






Marisa taking (and giving) orders...



... as numerous eyes are watching




Codex Alpe Adria, or Love Parade?


Funny people, but they
seem to like what I cooked...



Please say cheese...
... OK, let's try again







Friulian wine and food at work


Any tiramisu cream left there?



... innocence lost (all that wine,
and still pretending they don't
know what's behind them)...


... did they at least read the disclaimers?
Sunday's Sightseeing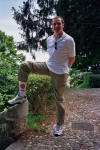 Dario showing off his socks at
the top of San Daniele hill
(home of world-renowned ham)


An unexpected concert
(Italian MP3 audio)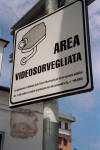 Privacy and... pest control









Late Sunday afternoon around Tarvisio
(Alps region north of Udine)
See You Next Year!